Good News Ministry of Defence Issued MOD Roll No Slips and MOD Test syllabus for different posts like Assistant, Sub Inspector, Constable and Traffic Analyst Jobs.All candidates are advised to download MOD Roll No slips from MOD website i.e www.recuitments.com.pk. Ministry Of Defence MOD Test syllabus 2022 is now main concern for all candidates who have applied for MOD Jobs 2022.In this article you will get in PDF Ministry of Defence MOD Test syllabus.This syllabus is applicable for MOD Jobs like Assistant Director MOD, Sub Inspector, Traffic Analyst, Constable and other related Jobs.The MOD test consist of 200 marks and also 0.25 negative marking is applied.The Test consists of subjects like English, General Knowledge, Pak study ,Islamayat, Everyday Science, Intelligence and computer MCQS.Here in this article you will get completed details about MOD Test Pattern and Test Syllabus.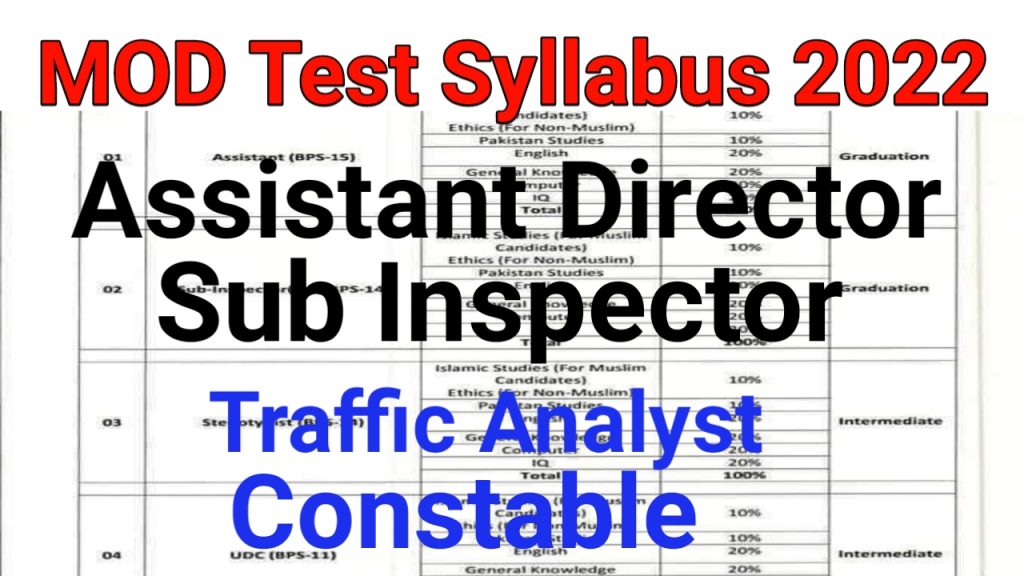 Ministry Of Defence MOD Test Syllabus 2022
MOD Assistant Director Test Pattern
Ministry of Defence Assistant Director Paper Pattern Analysis (According to Last year).
Total 200 Marks
0.25 Negative Marking.
English (30 Marks).
Passage Paragraph (Question/Answers)
Antonyms
Sentence Correction
Complete Sentences/Prepositions.
Analytical Portion 25-30 marks Questions (Most Important Part).
Current Affairs/Pak Affairs 30 Marks (Pak Indo History 1857-1947) (Pak-Geography)
Islamiyat+ Ethics 20 Marks.
Miscellaneous Part (World GK, Pak Geography + Current Affairs + EveryDay Science 90marks)
MOD Test Pattern for Assistant Director Sub Inspector Post
Here I am sharing Ministry of Defence MOD Test Pattern for Assistant Director, Traffic Analyst and Sub Inspector Jobs.All candidates are advised that please make a proper planning for MOD Jobs Test Preparation.The MOD test includes negative and the test is very tough.Here One of MOD AD Test qualifier has shared his strategy to get good marks in MOD Test.So all candidates are advises to look at this and make his own strategy and planning for Mod Test.
I am writing this post to guide the aspirants regarding jobs recently announced by Ministry of Defence. I have qualified AD MoD written +Psychometric and Sub Inspector MoD (Final result awaiting). The test for AD and sub-inspector consists of four phases.

1- Screening : Syllabus of Screening covers wide range of subjects.
Total marks =200
Last year merit = 106 (Punjab)
2- Descriptive : Two papers of AD (English Essay +Current Affair) and one paper for sub-inspector (English Precis +Current affair questions
3- Psychometric : It is the most crucial part of recruitment and consists of 04 days just like ISSB
4-interview : Panel of 08 member
Time duration is approximately 40 to 50 minutes vary from person to person
5-security clearance +medical+recommendation
Ministry Of Defence MOD Recruitments.Com.Pk Test Syllabus Pattern
So this is latest MOD Test Syllabus that I am sharing with you and all candidates are advised must follow this syllabus for upcoming MOD Tests scheduled from 2nd December 2022 to 5th December 2022.
MINISTRY OF DEFENCE (Paid Wali)
(Sub Inspector Security, Sub Inspector, ASI) Syllabus 2022
Total Marks :125 Time: 75 Minutes
Negative Marking: 0.25 (each mcqs) 1)Analogies= 5 Marks
2) Comprehension= 5 Marks
3) Antonyms or Synonyms= 5 Marks
4) Corrections/ One Word Substitute= 5 Marks
5) Fill in the blanks Parts of Speech= 5 Marks
6) Analytical Reasoning= 15 Marks
7) Pakistan History & Geography= 15 Marks
8) Islamic Studies= 10 Marks
9) Everyday Science= 10 Marks
10) Current Affairs/ World + Pak GK= 10 Marks
11) Ethics/ Sociology/ Philosophy= 5 Marks
12) International Relations= 5
13) Computer= 5 Marks
14) Psychological Assessment= 15 Marks
Download MOD Roll No Slip 2022
All MOD Test aspirants are here by informed that Ministry of Defence MOD has finally uploaded Roll No Slips on 28th November 2022.Candidates can now download MOD Test Roll No slips from MOD recruitment website i e www.recuitments.com.pk. The test for Post of Driver(BS-4), Security Supervisor(BS-7) is on Friday 2nd December 2022. While MOD Test for posts of Assistant(BS-15), Naib Qasid(BS-1), Traffic Analyst Supervisor(BS-16), Traffic Analyst(BS-14), Technical Monitoring Staff(BS-9) is on Saturday 3rd December 2022.The test for remaining jobs like Assistant Director(BS-17), Lady Receptionist(BS-7), Lower Division Clerk(BS-9), Operator Special(BS-9), Security Sub Inspector(BS-14), Security Assistant Sub Inspector(BS-9), Sub Inspector(BS-14), Upper Division Clerk(BS-11) is on Sunday 4th December 2022.So all candidates are advised to appear well on on time according to your test date and time.
| | |
| --- | --- |
|  Posts | Test Date |
| Driver(BS-4), Security Supervisor(BS-7) | Friday 2nd December, 2022 |
| Assistant(BS-15), Naib Qasid(BS-1), Traffic Analyst Supervisor(BS-16), Traffic Analyst(BS-14), Technical Monitoring Staff(BS-9) | Saturday 3rd December, 2022 |
| Assistant Director(BS-17), Lady Receptionist(BS-7), Lower Division Clerk(BS-9), Operator Special(BS-9), Security Sub Inspector(BS-14), Security Assistant Sub Inspector(BS-9), Sub Inspector(BS-14), Upper Division Clerk(BS-11) | Sunday 4th December, 2022 |
| Download MOD Roll No Slip 2022 | CLICK HERE |